The gifting season is so close I can almost smell the pine tree sap. If you're like me, in charge of figuring out what everyone wants, why not consider something planet friendly and the perfect group gift? Make it easy on everyone, including the planet! Examples? Simply send an Inlu invitation through the office, ask the cubicle posse to pitch in for something fresh and funky. Invite siblings to go in for one really cool, handmade or earth friendly gift for the grandparents. Collect enough from all the cousins to get Uncle Nice a fabulous piece of art. You get it- people pitch in as a group in lieu of a bunch of people buying, wrapping and shipping. It just makes sense!
Here are 10 Fun, Fresh Green Gift Options:
1. Eco Friendly Abstract Art on Salvaged Wood (12 SMALL Tree Rings)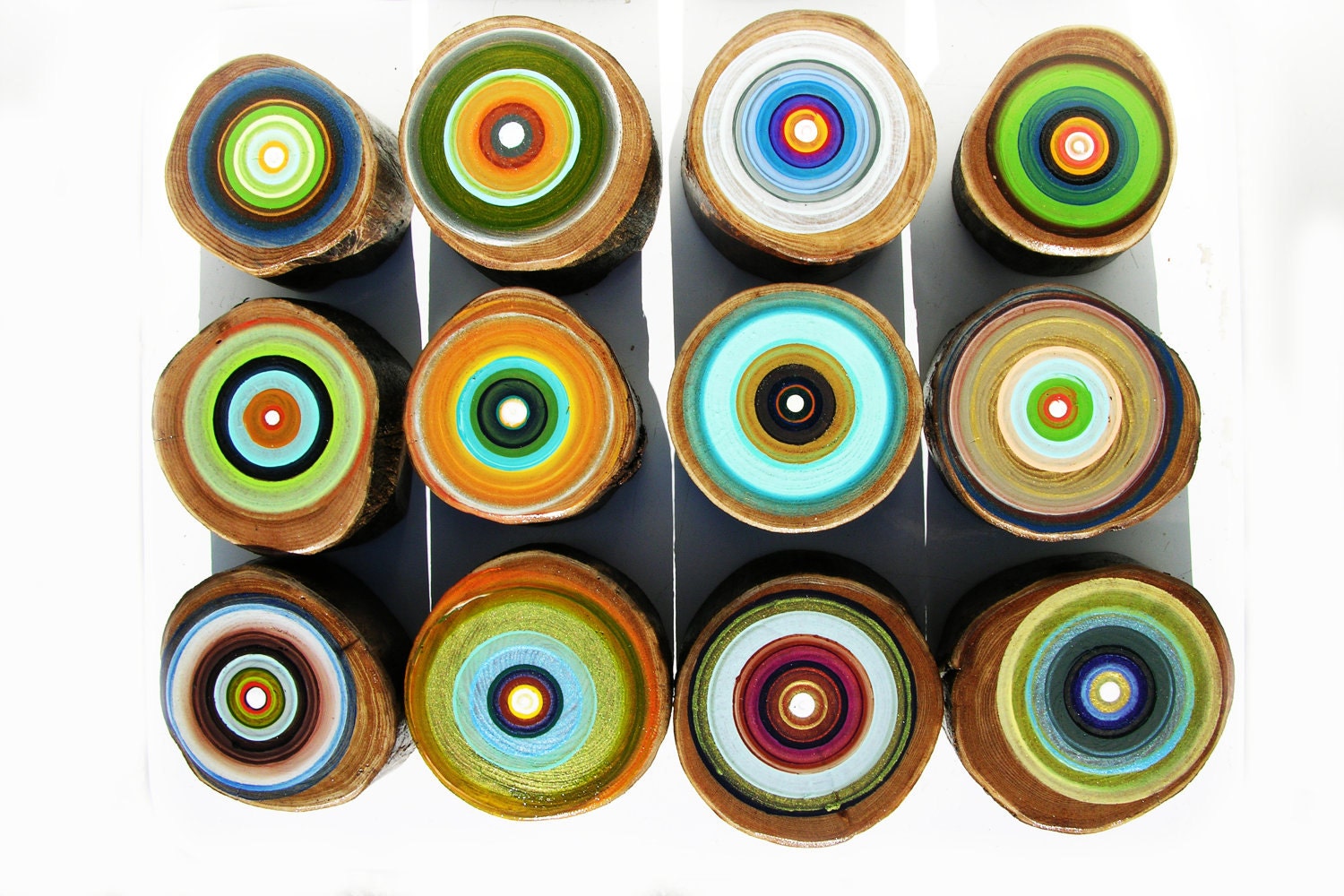 These are a creative, cool eco-friendly gift perfect for any boss, friend or relative who digs artsy deco. You can create a custom arrangement based on the space. focuslineart, $300
2. EarthPan Eco Friendly Kitchenware
This is perfect for the foodie in your life who loves to cook but doesn't want the icky chemicals on many stove top essentials- a GREAT group gift for an aunt, uncle, parents or grandparents. Perhaps you have a newlywed couple with ubertastebuds on your list? Pool funds and get them one gift they'll use together to make all those fancy dishes the rest of us can't. Earthpan 10 Piece Set $149.99. (Admittedly, not funky or handmade BUT the food that comes of it = no toxins and it's a fresh idea for a great gift:).
3. Mirrored Wine Glass Holder
Cheers to great art! Hang two wine glasses on this fabulous, mirrored frame made from recycled metal. What a cool gift for the wine lovers in your life. LarsMetalReflection, $225
4. Upcycled Biycle Tire Clock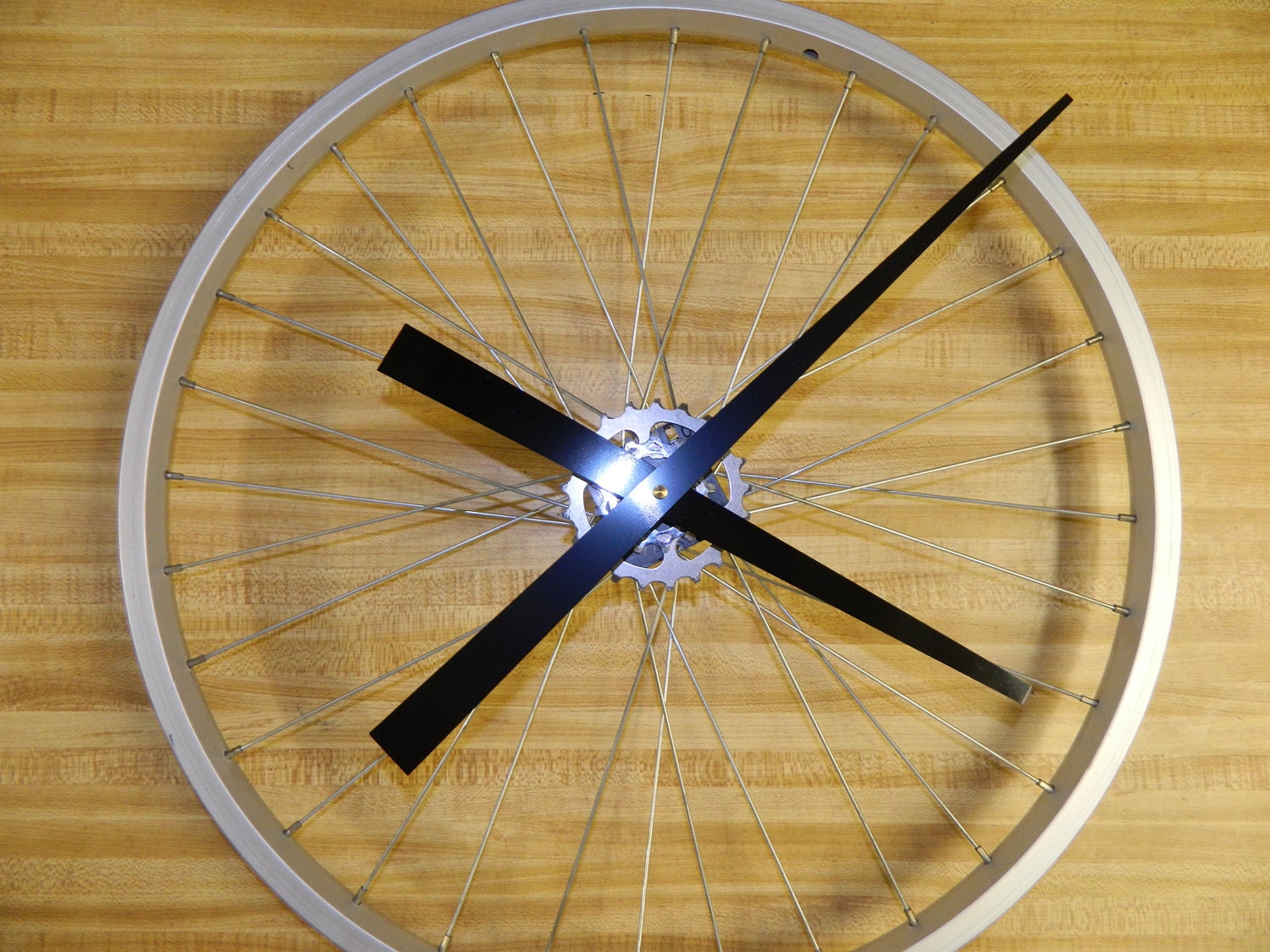 Got a brother who digs bikes? A sister who races downhill? Anyone in your family a beach cruising fool? Well, why not pitch in together and get an upcycled spoke-style clock? Love it. upcyclebicycle, $109
5. Elk Head Wall Art from Recycled Machinery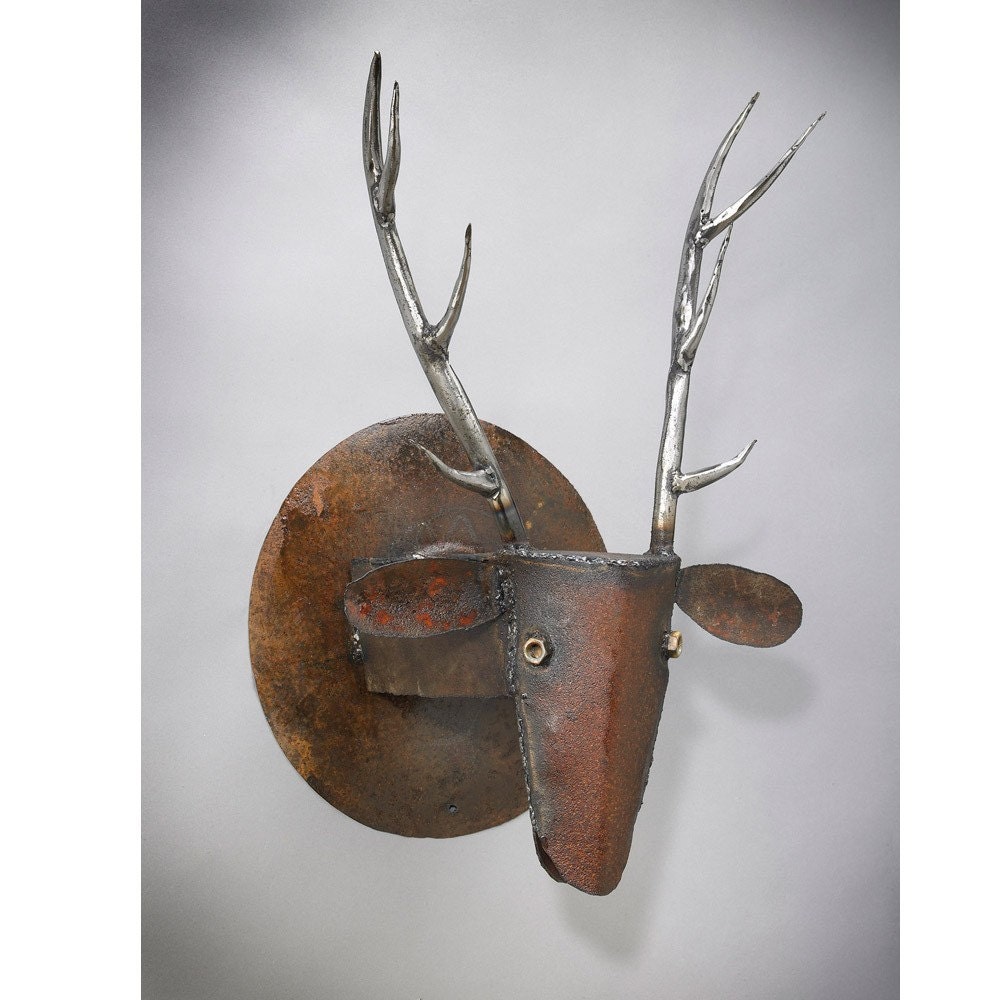 Know an urban soul longing for a trip to the backwoods? This Elk Head is created entirely from recycled farm machinery and is made in rural Pennsylvania. Gift hunters will score on this unique craftsmanship. Perfect in a work or social setting! TheSteelFork, $380
6. Recycled Glass Art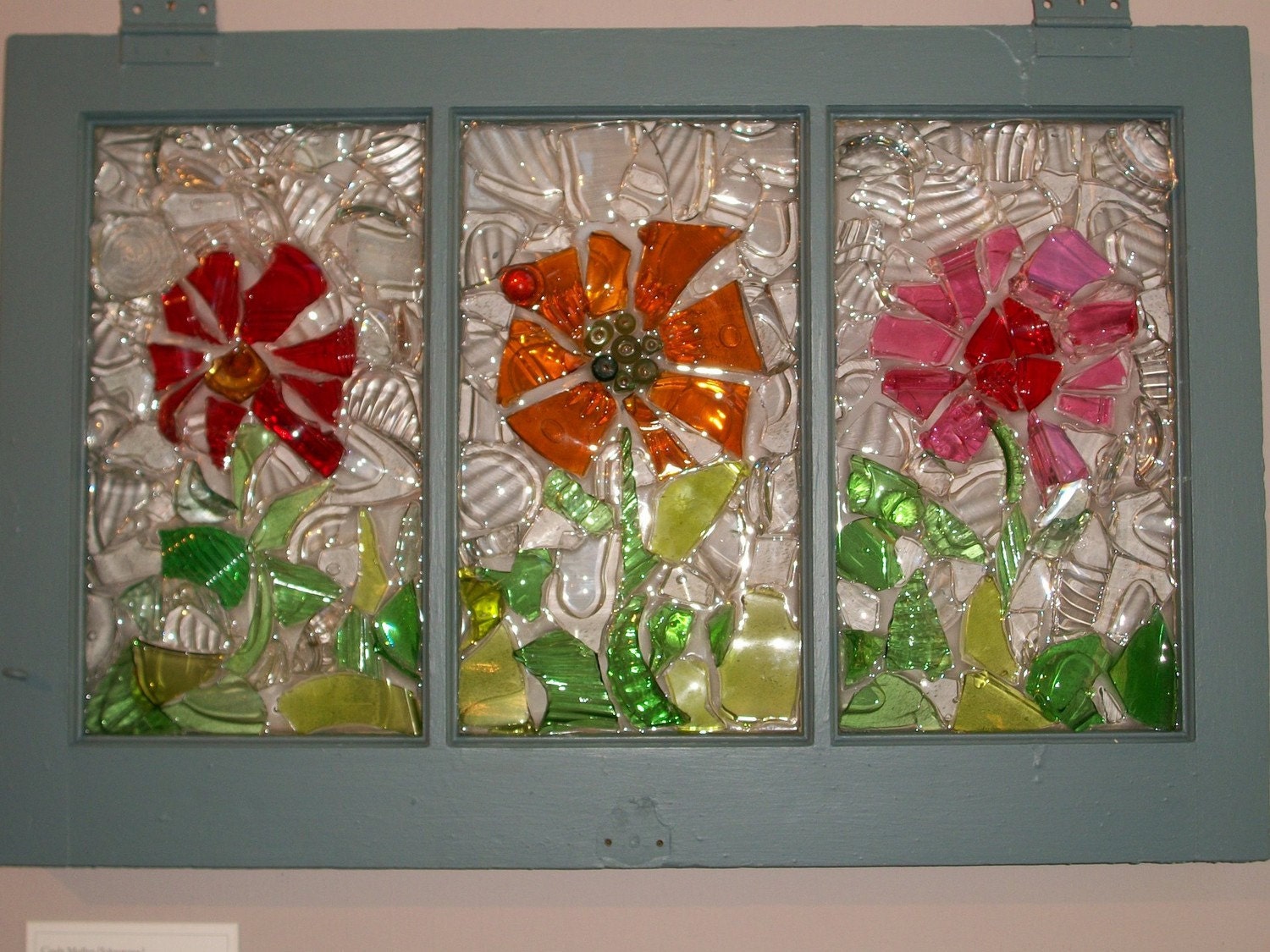 This whimsical piece is crafted from broken glass. It would be an excellent gift from the kids to a mother or grandmother. I can see it now in the entryway, capturing what winter sunlight it can find. RECreationsART, $275
6.  Peace of Art
This 44″ peace of art will make a BIG statement. It's recycled and handmade and totally awesome. So, why not give peace a chance? (Especially when friends come together to split the cost!)  Uncommon Goods, $1900
7.  45 RPM Mirror
This retro record wall-mounted mirror by Jeff Davis will add a touch of color to any room in the house. The frame of the mirror is composed of 12 vintage 45 rpm records mounted on Trupan, a composite wood created from 100% sustainable lumber. Mirrors are made using actual vintage records from a variety of genres, and chosen for their visual appeal. EcoArtware $130
8. Coconut Shell Earrings, Hand Crafted in Thailand
Love these 'Lotus Love' earrings! Again, these would great from the grown up kids to the much deserving  mom. "Shaped by hand, lovely lotus petals of coconut shell nestle in shining silver." Sustainable and simple. Novica, $104.99
9. BlueIQ Ecosystem
This is an excellent group gift for a boss or coworker because it's an entirely balanced ecosystem fit for a small space, like a desktop. It's clever, cool and fascinating. You can add shrimp and snails and plants, oh my! BLUEiQ $79 + accessories.
10. 7 FT Farmstyle Recaimed Dining Set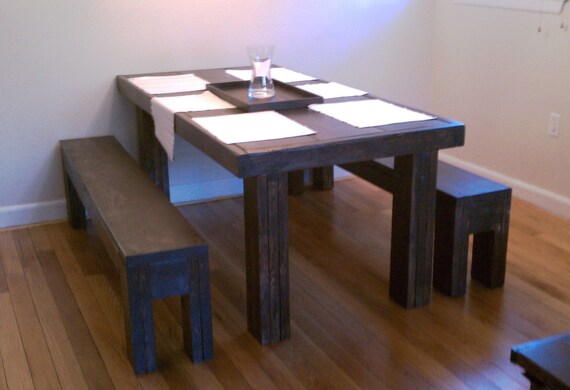 Last year, did you happen to notice time has taken its toll on the family table? Does it wobble too and fro? Are you short a few seats now that the grandkids have come along? Well check out this reclaimed dining set! It comes with 2 7 ft benches so the entire brood can brunch together. ModernRust, $759
{ 1 comment }